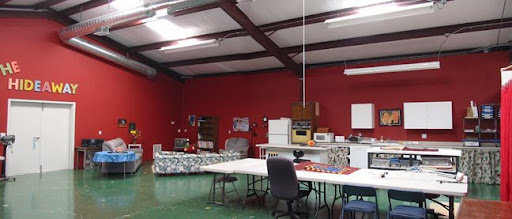 Photo (nostalgic shot): This is
The Hideaway,
my studio, which I am missing greatly while on my travels. 40x40 feet of luxurious space. What looks like artificial lighting is just the sun shining through the skylights.
My quilting friends in the Friendship Garden Guild meet here weekly to stitch and bitch (Jane will be happy that I mentioned that). Having been sewing for the last couple of weeks in a hotel room here in Rocket City, USA, I find that what I miss most is my cutting table, my pingpong table (for layout), my ironing table - and my friends!
To the left, out of the picture, are my pingpong table (good for fabric layouts), my ironing table (batting and a sheet on a home-made wooden table), and my layout wall (backside of a flannel-backed vinyl table cloth pinned to the wall. The five white tables in the shot are where our quilting guild sits and sews weekly. The taller white table behind it is the cutting table. Also in the background is the kitchen area, from which we gain our sustenance both during our quilting and Bible study nights.
To the right, also out of the picture, is a 24-foot wall of shelves (I know, I'm still drooling). About ten quilts (five of them finished) adorn the walls and/or hang in front of the shelves.
Back to binding the picnic quilt...